"Barbie and the Beast"
Dorchester Publishing / Amazon Montlake Publishing
ISBN: 978-0-505-52813-1


Wanna know more about Barbie B —

To what lengths might a twenty-something, single female go when confronted with raging hormones, family pressure, and a desire for a big diamond ring?

For Barbie Bradley, the answer might lie somewhere in the dark, creepy pathways of an old graveyard. Where she can finally rustle up something the airhead "doll" never had . . .

Dear visitors: I've been asked what the inspiration for the book was, and why I chose the very recognizable name of Barbie for my heroine. Easy!


I loved the doll. I still have her. And as time went by, I became saddened by the fact that Barbie never got Ken. Not really. It was always, if you recall, "Dream Wedding Barbie," and "Bridesmaid Barbie," but never "Wife Barbie." After all this time and dating, Ken was pretty boring and non-committal.

So I thought to myself, what if some poor, feisty young gal, not at all like the doll but named after her by a Boomer parent (and used to the jokes such a name would continually provide), was to take this fact to heart and wonder if she'd also be left to meander through time in single status? Bummer, right?

And then, after discussing this idea with a pal, he sent me some statistics on Barbie from a Barbie fanzine site that became an inspiration for my hero's plight, and ended up like this:

Though Barbie, as the doll we have all known and loved, has had in her short time on planet earth twenty-one dogs for pets, as well as three ponies, a horse, six cats, a parrot, a chimp, a panda, a lion cub, a giraffe, and a zebra - Barbie, in whatever incarnations Mattel has made her, has never had a . . . Werewolf.

"Werewolf" interchangeable with . . . "husband"?
Voila! My muse sang out loud and clear. My Barbie needed a real challenge, and this was it. Somebody not in the least boring. Someone with problems all his own, but who rose above them like a champ. Up popped Darin Russell, part-time fur ball.
A beautiful man, flawed, but with real potential . . .
For an adventurous woman, flawed, with real potential . . .
It was a wild romp for me after that, as a writer - following Barbie and her pal Angie toward the singles party that turns out to be in a graveyard locale, where their personalities shine, even if the sun doesn't, and they can safely whine, as only best pals can.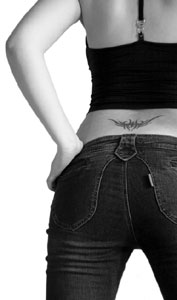 Describing their antics in this very light contemporary paranormal was so much fun that I wanted to work on it every day. And then, when the book was finished, I had withdrawals, and decided to make Barbie and the Beast the first book in a series of light, frivolous paranormal stories where each gal or guy gets their beastie in the end. Beasties ranging from A to Z with alliteration in the titles.
I'm already half finished writing the second one, about Veronica, and then want to get to Angie, Barbie's best pal for the third. (Can't wait to tell you what Walter is).
Oh - yes - please do sign my guest book. Let me know you've stopped by.
Cheers!